CF • middengroep •
• OOK DEZE GROEP IS INMIDDELS VOL! •

Rannveig Djønne
11. Music from Norway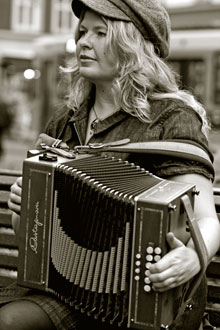 Foto: Knut Utler
Rannveig Djønne from Hardanger in Norway is an innovative diatonic button accordion performer with a solid foundation of tradional knowledge. Starting playing when she was nine years she has now played the box for twentyseven years and has studied at the Ole Bull Academy.

She has been a Norwegian champion on her instrument twice and several times champion of the west coast. As one of the few professional button accordion players in Norway, she is active both as a soloist, in her own trio 'Djønno folk' and with various other groups. In 2010 her ensemble played at the largest folk music festival in Norway. She has her own style of playing and is also known as a very good composer.
Her debut cd 'Spelferd heim' was released in 2008. It got great reviews in Norways largest newspapers. 'Aftenposten' gave the cd five points out of six. The same newspaper put the cd among the 10 best folk music cds that year. It was also nominated for the Norwegian Folk Music Award and purchased by the Norwegian Arts Council.