CF • Middengroep / Ook voor anglo-concertina

Liam Robinson
10. English Traditional Dance Music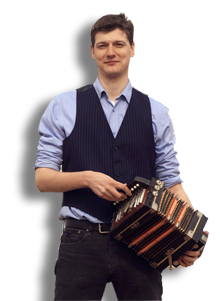 This workshop will look at style, technique and repertoire for English dance music, including looking at how to match the music up to the dance styles. Suitable for C/F or C one row and anglo-concertina.

Liam Robinson is a musician, singer, educator and organiser. He is based in Lincolnshire but works throughout the UK and has appeared in North America and a host of European countries. He plays Melodeon and Concertina as well as singing, calling dances and leading workshops. Liam's primary interest is in the music and songs of Lincolnshire and he has recently released a CD of songs from Lincolnshire and the East Coast. Liam's knowledge and enthusiasm, as well as his desire to get people involved have helped him build up a great reputation in all he does.
Liam organises regular music and dance events in Lincoln, is the organiser of the annual Lincoln Morris Festival and is currently working on a research project about regular community dance events called "Dancing the Small Halls". He still manages to find time to bring traditional music, dance and song to schools and community groups through the Mini Morris Company.